Created for You & Your Property
We can help you create the perfect cave for your needs, backed by decades of experience.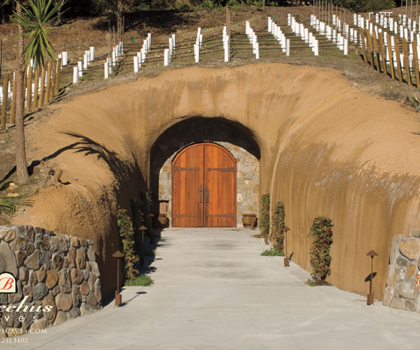 Bacchus Caves is presently carving caverns throughout the entire United States- from sunny California to the East Coast, including West Texas in between. Caves are all individually customized ranging in size from 66 square feet to 42,000 square feet, and vary in function including, but not limited to: music production studio, art gallery, luxury spa retreat, dramatic dining chamber, wine storage site and more. Excavated by Bacchus Caves, the Meritage Resort in Napa opened the world's first underground cave spa in May 2007.
We work with architects and builders to lay out the perfect addition to a site's plan, one that integrates closely with the unique needs of building underground.
A Comprehensive Underground Building Solution
From consulting on layout to complete construction and finish-out, we work in concert with clients and other firms to bring underground dreams into reality.
• Engineering
• Permitting Assistance
• Tunneling Excavation and Support
• Cut and Cover Construction
• Constructibility Review and Estimate
• Geotechnical Investigation
• Preliminary Layout
• Plumbing, Mechanical, Electrical
• Flooring and Ventilation Installation
• Shot-crete Retaining Wall Construction (Soil Nails)
• Surface Rock Excavation and Support
• Site Selection and Evaluation
• Tunnel Repair & Rehabilitation